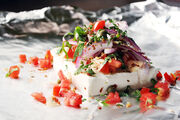 Prep Time: 5 minutes
Cook time: 10 minutes
Serves: 4
Description
[
]
This is an incredibly easy recipe but it makes a delicious snack to enjoy with a glass of wine. I poached the idea from a Tapas restaurant that I used to work in. Spread on baked Turkish bread or Pizza Bianca.
Ingredients
[
]
1 slab of

feta

cheese
1 ripe

roma tomato

1 small

chilli

½ small

red capsicum

¼ small

red onion

a pinch of

oregano

extra-virgin olive oil
Directions
[
]
Preheat the oven to 200°C.
Slice the capsicum, tomato and the red onion thinly.
Place the slab of feta in a shallow, oven proof dish.
Arrange the whole chili, sliced tomato, capsicum and onion around and on top of the Feta.
Sprinkle with oregano, salt and pepper.
Add a very liberal dash of olive oil (approximately 2 tbsp).
Cook for around 10 minutes or until the texture of the cheese is soft and creamy.