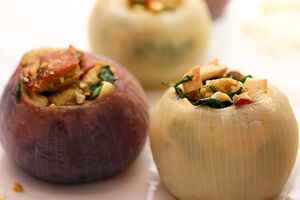 Prep Time: 30 minutes
Cook Time: 20 minutes
Yields: 6 servings
Description
Edit
This is actually my mom's recipe, except she uses meat (usually sausage) where I use potatoes. Sometimes I use meat though. This is the vegetarian version.
Ingredients
Edit
1/2 cup uncooked white rice
6 large Vidalia onions
4-6 red potatoes, rinsed and chopped into small cubes
1/4 cup chopped green bell pepper
1 egg, beaten
1 (8 ounce) package cream cheese, softened
1/2 teaspoon dried oregano
2 tablespoons chopped fresh parsley
2 tablespoons butter, melted
1/2 teaspoon paprika
Directions
Edit
1. Preheat oven to 400 degrees F (200 degrees C). Lightly grease a baking dish.

2. In a saucepan bring 1 cup water to a boil. Add rice and stir. Reduce heat, cover and simmer for 20 minutes.

3. Meanwhile, bring a large pot of salted water to a boil. Peel onions and slice off the tops; boil for 12 to 15 minutes, or until tender but not mushy. Drain, cool and remove the centers, leaving the shell intact. Chop onion centers and reserve 1/2 cup.

4. Bring a medium pot of salted water to a boil. Boil potatoes for 10-12 minutes, or until they are tender. Drain and set aside.

5. Saute green pepper and 1/2 cup chopped onion in a small sauté pan.

6. In a large bowl, combine green pepper, onion, potatoes, egg, 1 cup cooked rice, cream cheese, oregano and parsley. Spoon mixture into onion shells and place in prepared dish. Combine melted butter and paprika; brush tops of onions.

7. Cover and bake in preheated oven for 15 minutes. Uncover, and bake an additional 5 minutes.