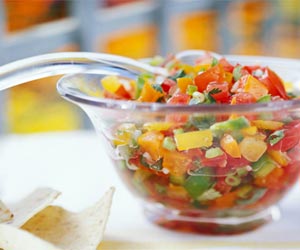 Prep Time: 20 minutes
Cook Time: 1 hour, 30 minutes
Yields: 6 servings
Description
Edit
Experience salsa in a new way! Spicy and sweet, banana pepper salsa is best served with crisp tortilla chips and your favorite beverage. Enjoy!
Ingredients
Edit
1 habanero or scotch bonnet peppers
2 banana peppers, finely chopped
2 cups sweet onion, diced
2 cups peeled diced tomatoes
3/4 cups white sugar
1/4 cup brown sugar
1/4 to 1 cup lime juice
1 tbsp. minced garlic
2 small cans tomato paste
2 cups vinegar
1/2 bunch cilantro, finely chopped
salt (to taste)
Directions
Edit
1. Note: All peppers (except habanero and jalapeno peppers) should be rinsed and de-seeded before proceeding with the recipe.
2. Puree the habanero and jalapeno peppers in ½ cup vinegar.
3. Place peppers, onion, tomatoes, hot pepper puree, vinegar, lime juice, garlic, cilantro, tomato paste, and brown sugar in large saucepan and boil for 20 minutes; reduce heat to simmer.
4. Add white sugar and salt and simmer for 10 more minutes. Note: Depending upon how sweet you like your salsa, you might want to adjust the amount of sugar used.
5. Refrigerate salsa up to 1 hour before serving. Serve with tortilla chips.
Community content is available under
CC-BY-SA
unless otherwise noted.