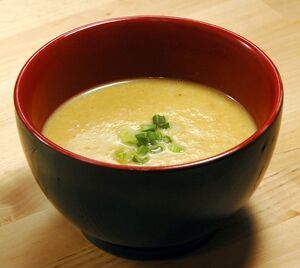 Prep Time: 10 minutes
Cook Time: 15 minutes
Yields: 2-3 servings
Description
[
]
This is not your ordinary soup! Sweet and slightly peppery, this soup is sure to become a new favorite.
Ingredients
[
]
4 yellow Banana peppers
2 tablespoons oil
2 shallots
1 cup cashews
1 1/2 cups water
2 teaspoons mild mustard
1/2 teaspoon salt
1/2 cup white wine (optional)
dash white pepper
chopped green onions (garnish)
Directions
[
]
1. Rinse peppers; slice and remove seeds.
2. Chop peppers into bite-sized pieces. Set aside.
3. Peel the outer skins from the shallots and chop finely.
4. Heat oil in a medium-sized saucepan. Add shallots and peppers.
5. Add water, salt, white pepper and cashews to the saucepan. Sauté all ingredients for 10 minutes, or until peppers and cashews have softened and shallots are slightly translucent.
6. Remove ingredients from saucepan and transfer to a food processor (or blender). Puree for 3-5 minutes.
7. Remove the puree from the food processor and return to a saucepan or large mixing bowl. DO NOT return to heat. Add mustard and thin the soup with white wine (optional).
8. Season to taste with additional salt, pepper, or mustard.
9. If you'd like, you can simmer the heat on a low setting before serving.
10. Garnish with croutons.
11. Serve.