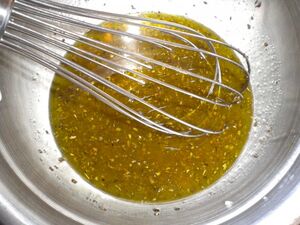 Prep Time: 10 minutes
Cook Time: 20 minutes
Yields: 4 servings
Description
Not to be eaten alone, the banana pepper vinaigrette is the perfect accompaniment to a sandwich or salad.
Ingredients
4 tablespoons virgin olive oil
1 medium red onion, thinly sliced
1 clove garlic, whole
4 Italian frying peppers (banana shaped), whole
2 sweet red bell peppers, cored, seeded and cut into 1/2-inch strips
2 sweet yellow peppers, cored, seeded and cut into 1/2-inch strips
2 large jalapeno peppers, cored, seeded and julienned
3 tablespoons balsamic vinegar
2 tablespoons chopped fresh marjoram leaves
6 tablespoons extra virgin olive oil
Salt and pepper to taste
Directions
1.Heat virgin olive oil in a 10-12 inch sauté pan over medium heat. Add onion and garlic clove and continue cooking for 4-5 minutes, or until garlic clove is softened and onions are translucent.
2. Add all of the peppers to the pan and cook for 10-12 minutes or until peppers have begun to soften. Remove from heat and transfer to large mixing bowl. Allow to cook.
3. In a small mixing bowl, combine balsamic vinegar, marjoram and extra virgin olive oil. Season with salt and pepper.
4. Pour the vinegar blend over the now cool pepper mixture and toss gently with hands. Be careful not to break up the peppers. Set aside for later use.