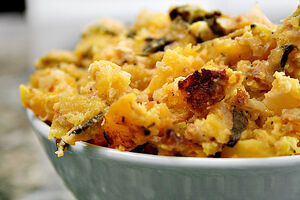 Prep Time: 10 minutes
Cook Time: 1 hour, 30 minutes
Yields: 4-6 servings
Description
[
]
This is a favorite around my Thanksgiving table. Hopefully it will become a favorite around yours too!
Ingredients
[
]
1 (2 1/2 lb) buttercup squash
2 tablespoons brown sugar, packed
1/4 teaspoon salt
1/4 teaspoon ground cinnamon
1/4 teaspoon ground nutmeg
2 tablespoons butter or 2 tablespoons margarine
1 tablespoon fresh chives, chopped
1/8 teaspoon ground nutmeg, if desired
Directions
[
]
1. Preheat oven to 350°F. Cut squash into quarters and remove seeds. In an ungreased shallow baking pan, place pieces, cut sides down. Bake 45 to 50 minutes or until tender. Cool slightly.
2. Spray 1-quart casserole with cooking spray. Scoop squash pulp from skin; place in medium bowl. Discard skin.
3. Add brown sugar, salt, cinnamon, 1/4 teaspoon nutmeg and butter to squash. Mix with potato masher or fork until well blended. Spoon into casserole. Sprinkle with chives and 1/8 teaspoon nutmeg.
4. Bake casserole for 20 to 25 minutes or until hot.
5. Allow to cool before serving.