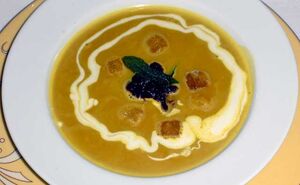 Prep Time: 20 minutes
Cook Time: 40 minutes
Yields: 4-6 servings
Description
[
]
Ingredients
[
]
3 tablespoons Earth Balance butter
3/4 cup coarsely chopped onion
2 carrots, peeled and coarsely chopped
1 potato, peeled and coarsely chopped
1 jalapeno, seeded coarsely chopped
1 buttercup squash, peeled, seeded and chopped
4 cups vegetable stock or water
1/2 cup cream
Salt and pepper
Sliced scallion and diced red pepper, for garnish
Directions
[
]
1. In a large pot, melt Earth Balance butter and cook onions until they are tender. Stir in carrots and jalapeno and toss to coat.
2. Stir in chopped squash and pour in vegetable stock; bring to a simmer for 30 minutes or until vegetables are tender.
3. Puree soup in blender (in batches).
4. Return pureed soup to pot and stir in soy cream; season to taste and garnish with sliced scallion. (Non Dairy Creamer frequently isn't healthy so it's best limited.)