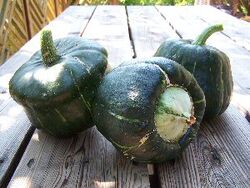 Buttercup squash recipes
Edit
Add a buttercup squash recipe>>
About Buttercup squash
Edit
Buttercup squash has a consistency more like that of a sweet potato than a pumpkin. The buttercup squash is sweet and nutty in flavor although the flesh can be dry.
Where can you buy it? How do you choose it? Does it have a season?
Buttercup squash is a winter vegetable. When purchasing buttercup squash, it is best to choose one that feels heavy for its size and is free of blemishes and soft spots.
Do you know? Edit now!!!
Production
Edit
You will needEdit
Preparation
Edit
How is it made or grown?
Nutrition
Edit
Do you know? Edit now!!!