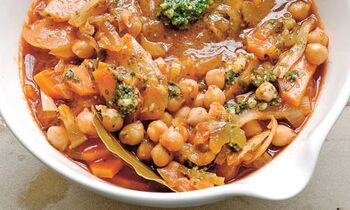 Description
Edit
This recipe is from Yotam Ottolenghi's vegetarian cookbook "Plenty". It was published in guardian.co.uk
Ingredients
Edit
Directions
Edit
Heat the oven to 350°F.
Put the onion and fennel in a large pan, add three tablespoons of oil and sauté over medium heat for four minutes.
Add the carrot and celery, and soften, stirring occasionally, for four minutes.
Add the tomato purée, stir for a minute, then add the wine and let it bubble for a minute or two.
Add the tomatoes, herbs, sugar and stock, and season.
Bring to a boil, cover and simmer gently for 30 minutes.
Meanwhile, break the bread into medium-size chunks, toss with two tablespoons of oil and some salt, and scatter in a roasting tin.
Bake for 10 minutes, until thoroughly dry, then set aside.
About 10 minutes before you want to serve, put the chickpeas in a bowl and crush them a little with a potato masher or the end of a rolling pin; you want some to be left whole.
Add the chickpeas to the soup and simmer for five minutes.
Next add the toasted bread, stir and cook for another five minutes.
Taste the soup and add salt and pepper liberally.
Ladle the hot soup into bowls.
Spoon some pesto in the centre, drizzle with olive oil and finish with shredded basil, if you like.