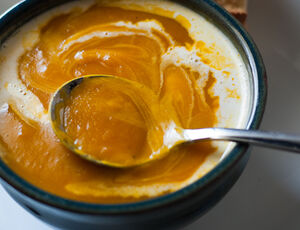 Prep Time: 20 minutes
Cook Time: 50 minutes
Yields: 2 servings
Description
[
]
This is a hearty winter side dish to make, and most importantly, my family loves it!
Ingredients
[
]
2 buttercup squash
2 tablespoons butter
1 teaspoon curry powder
Directions
[
]
1. Preheat oven to 350°F.
2. Cut squash in half and scrape out the seeds & pulp.
3. Place squash cut side down on a pen aluminum foil lined rimmed baking pan.
4. Bake for 30 minutes.
5. Remove squash from oven and turn over.
6. Put half of the butter and spices in each squash half.
7. Return to the oven and bake for another 20 minutes or until the squash is tender and can be easily pricked with a toothpick.
8. Serve.
9. Note: I usually "mash" the inside of my half to mix the spices throughout the flesh once it is on my plate).