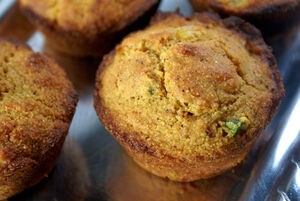 Prep Time: 10 minutes
Cook Time: 20 minutes
Yields: 8 servings
Description
[
]
Serve them as a side dish, or dessert, it really doesn't matter. These delicious muffins are a welcome change to the plain ol' cornbread ones. Spice it up!
Ingredients
[
]
2 1/4 cups all-purpose flour
1/4 cup yellow

cornmeal

2 teaspoons baking powder
1 teaspoon baking soda
1 1/2 tablespoons dried thyme
1 1/2 tablespoons crushed fennel seed
1 pinch ground black pepper
1 pinch salt
1/4 cup white sugar
1 cup soy milk
1 egg
1 egg yolk
1/2 cup

vegetable oil
Directions
[
]
1. Preheat the oven to 375 degrees F. Grease a muffin tin, or line with muffin papers.
2. In a large mixing bowl, whisk together the flour, cornmeal, baking powder, baking soda, thyme, fennel seeds, salt, pepper, and sugar. Make a well in the center, and pour in the soy milk, egg, egg yolk, and oil. Stir mixture just until blended. Spoon mixture into the prepared muffin tin, filling cups about 3/4 full.
3. Bake muffins for 18 to 20 minutes in the preheated oven, or until the tops of the muffins spring back when lightly pressed.
4. Allow muffins to cool in the pan for at least 5 minutes before removing from cups.