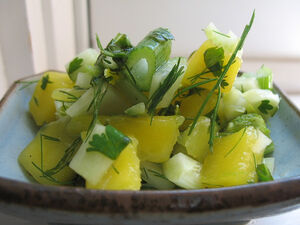 Prep Time: 20 minutes
Cook Time: 20 minutes
Yields: 4 cups
Description
[
]
Sweet and spicy, this Fennel Mango salad goes lovely with grilled meat or tortilla chips. Enjoy!
Ingredients
[
]
1 large mango, diced
1 large fennel bulb, diced
1/2 red onion, chopped
1/2 cup banana pickled peppers, chopped
1 bunch cilantro, chopped
2 tablespoons honey
3 tablespoons fresh lemon juice
salt and pepper to taste
Directions
[
]
1. Combine all ingredients in a bowl and mix thoroughly, making sure that the honey coats all parts of the mixture. Allow mixture to chill for at least 20 minutes before serving.