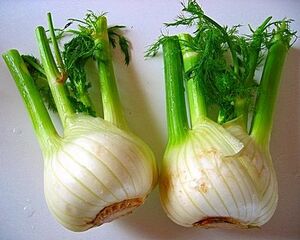 Prep Time:
Cook Time: 10 minutes
Yields: 4
Description
[
]
A Fennel salad is healthy to everyone.
You can add carrots,Baby portebella Mushrooms and More.
Ingredients
[
]
1 fennel bulb , Cored and diced
1 celery ,Thinly sliced
1 cup of macadamia nuts , toasted
1 Parsnip, peeled,halved,slice
1 teaspoon of Lime Zest
2 teaspoon of lime juice
1 tablespoon of vinegar
1/8 teaspoon of pepper
1/4 teaspoon of salt
A drizzle of oil
Grated Mozzarella for serving
Directions
[
]
1. Add the fennel, Celery and macadamia nuts.
2. Heat a skillet over medium to high heat, Add the parsnips and cook until it's tender about 5-10 minutes.
3. Add the parsnips to the salad
4. In a small bowl , add the lime zest and juice, vinegar , pepper and salt and whisk.
5. While you are whisking , add the oil slowly in the stream until it is combine.
6. Add the dressing to the Fennel salad toss until it is coated with the dressing. Sprinkle some Mozzarella Cheese and Serve.