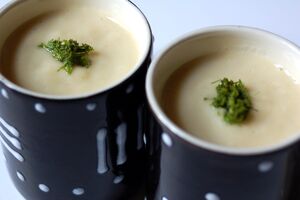 Prep Time: 7 minutes
Cook Time: 25 minutes
Yields: 4 servings
Description
[
]
Mild in flavor and easy to prepare, this soup is the perfect answer to a quick dinner or simple lunch. Put your own twist on the recipe by adding your favorite vegetable!
Ingredients
[
]
1/4 cup butter
5 fennel bulbs, trimmed and quartered
32 oz. vegetable broth
salt and pepper to taste
Directions
[
]
1. Melt butter in a large skillet over medium heat. Add the fennel bulbs and cook for 10 minutes, or until golden brown. Stir often.
2. Pour in broth and simmer until fennel is tender (15 minutes).
3. Serve. Season with salt and pepper to taste.