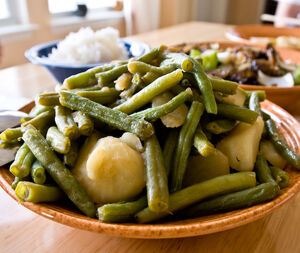 Prep Time: 10 minutes
Cook Time: 25 minutes
Yields: 6 servings
Description
[
]
Bring a classic back to the dinner table! This quick fix works well for vegans and non-vegans alike!
Ingredients
[
]
3 cups thinly sliced

potatoes

2 cups frozen green beans
1/2 teaspoon dried thyme
1/4 teaspoon ground black pepper
1 teaspoon vegetarian Worcestershire sauce
1 cup vegetable broth, divided
1 teaspoon

cornstarch

1/4 cup chopped fresh parsley
Directions
[
]
1. In a large skillet, combine potatoes, green beans, thyme, pepper, Worcestershire sauce, and ¾ cup of broth. Cook on medium-high heat. Bring ingredients to a boil; reduce heat to medium-low, cover and simmer 15 to 20 minutes or until vegetables are tender.
2. In a small bowl, blend remaining broth and cornstarch. Stir in parsley; add to potato mixture. Continue cooking, stirring mixture often until it has begun to bubble and becomes thickened.
3. Serve.