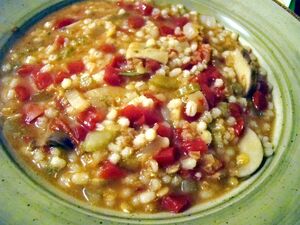 Prep Time: 40 minutes
Cook Time: 1 hour, 15 minutes
Yields: 6 servings
Description
[
]
Mmmm, a wonderful stew of lentil and mushroom! It takes a while to make, but it's worth the wait.
Ingredients
[
]
1 ounce dried porcini mushrooms
2 large onions
1 whole clove
1 cup uncooked lentils, preferably lentilles du Puy, rinsed
1 bay leaf
2 teaspoons extra virgin olive oil
2 garlic cloves, minced
2 leeks, white part only, washed and chopped
1/4 cup minced fresh parsley
1 teaspoon crumbled dried summer savory
1 teaspoon ground cinnamon
2 tablespoons balsamic vinegar, approximately
2 teaspoons ground cumin
8 ounces fresh cremini or portobello mushrooms, sliced
2 parsnips, peeled and thickly sliced
1 tablespoon brown rice flour or unbleached all-purpose flour
1 pound firm tofu, cut into 1-inch cubes
Directions
[
]
Place the porcini in a small bowl. Add hot water to cover and set aside until the mushrooms are soft, about 30 minutes. Chop one of the onions and set it aside. Cut the remaining onion into quarters. Stick the clove into 1 quarter, and place all 4 pieces in a large saucepan. Add the lentils and bay leaf. Add water to cover by 1 1/2 inches. Bring to a boil over medium-high heat. Cover, reduce the heat to medium-low, and simmer until the lentils are tender, about 30 minutes.
meanwhile, heat the oil in a medium skillet over medium-high heat. when it's hot, add the chopped onion, garlic, leeks, parsley, cumin, savory, and cinnamon. Reduce the heat to medium and saute, stirring often, until the vegetables are soft, about 7 minutes. Add the balsamic vinegar and continue stirring until most of it has evaporated, about 2 minutes. Stir in the fresh mushrooms and parsnips and continue sauteing until they're soft, about ten minutes. if the vegetables start to stick, add more balsamic vinegar one teaspoon at a time, scrape, and stir.
Drain the porcini through a fine sieve, reserving the water. CHop them and add them to the pan. Sprinkle the mixture with the flour and stir well.
Drain the lentils, discarding the liquid, clove, and bay leaf. Add them to the mushroom mixture. Stir well to blend.
Stir in the mushroom soaking liquid, and continue stirring until the sauce thickens, about 5 minutes. Add the tofu, and stir well to coat. Cover and simmer over low heat until the flavors of the stew permenate the tofu, about 45 minutes. Stir gently and let the stew sit for 15 minutes before serving.
See also
[
]