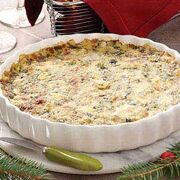 Prep Time: 5 Minutes
Cook time: 10 Minutes
Serves: 4
Description
[
]
This is a great spinach dip from Olive Garden. I'm sure you've had it, but if not you absolutely need to give it a try. This recipe is straight out of a restaurant cookbook so you'll find it exactly the same as in the restaurant!
Ingredients
[
]
1 cup chopped

artichoke hearts

(canned or frozen and thawed)
½ cup frozen chopped

spinach

, thawed
8 oz

cream cheese

½ cup grated

Parmesan cheese

½ teaspoon crushed

red pepper flakes

¼ teaspoon salt
⅛ teaspoon

garlic powder

dash

black pepper
On the side
[
]
crudités,

crackers

,

chips

, or sliced toasted pitas
Directions
[
]
Boil the spinach and artichoke hearts in a cup of water in a small saucepan over medium heat until tender, about 10 minutes.
Drain in a colander when done.
Heat the cream cheese in a small bowl in the microwave set on high for 1 minute.
Or, use a saucepan to heat the cheese over medium heat just until hot.
Add the spinach and artichoke hearts to the cream cheese and stir well.
Add the remaining ingredients to the cream cheese and combine.
Serve hot with crackers, chips, or toasted pitas for dipping.