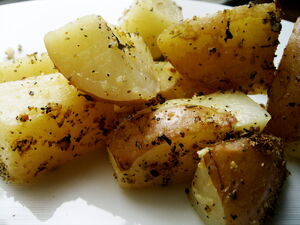 Prep Time: 5 minutes
Cook Time: 15 minutes
Yields: 3-4 servings
Description
Edit
Spicy fried potatoes
Ingredients
Edit
3-4 Potatoes
Cooking oil (olive, vegetable)
Salt, Pepper to taste)
1/4 teaspoon Chile Powder
1 teaspoon Oregano
Directions
Edit
Rinse potatoes under cold water. Peel skins if desired.
Cut potatoes into small-medium pieces (see photo).
Soak the potato chunks in a bowl of water for about 2 minutes.
Warm skillet on stove over medium heat, add oil. Let warm.
Add potatoes to pan. After a few minutes, add spices. Let cook for around 15 to 20 minutes stirring frequently.
Potatoes will be tender when done. Don't allow to burn!
Let potatoes cool down for 3 minutes, then serve.
                Served with any other vegetable