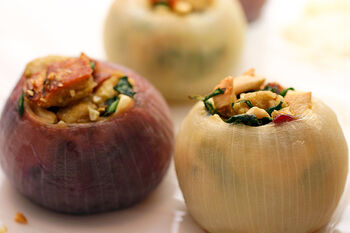 Description
[
]
This recipe is from Yotam Ottolenghi's vegetarian cookbook "Plenty". It was published in guardian.co.uk
Ingredients
[
]
butter

, for greasing the dish
500 ml

vegetable stock

350 ml

white wine

4 large onions
3 small

tomatoes

120 g fresh white

breadcrumbs

90 g

feta

, crumbled
80 g

parsley

leaves, finely chopped
3 tbsp olive oil, plus extra to finish
2

garlic

cloves, crushed
3

spring onions

, thinly sliced
¾ tsp salt

black pepper
Directions
[
]
Heat the oven to 180°C / gas mark 4.
Butter a small ovenproof dish.
Put the stock and white wine in a medium saucepan and bring to a boil.
Meanwhile, trim 5mm off the tops and bottoms of the onions, then cut them in half lengthways and remove the brown, papery skin.
Gently scoop out most of the insides (keep these for another use, as outlined above), retaining only the two or three outermost layers.
Carefully separate the outer layers from each other and place a few at a time in the simmering stock.
Cook for three to four minutes, until just tender, drain and leave to cool slightly (reserve the stock for another use, as above)
To make the stuffing, use a coarse cheese grater to grate the tomatoes (you'll be left with most of the skin in your hand; just discard it).
Put the grated tomato pulp in a large bowl and add the breadcrumbs, feta, parsley, olive oil, garlic, spring onions, salt and some pepper.
Fill each onion layer generously with stuffing, then pull together the sides so you end up with a fat cigar shape.
Lay the stuffed onions, seam-side down, in the buttered oven dish and pour over about 75ml of the reserved stock, just enough to cover the bottom of the dish.
Bake for 45–50 minutes, or until the onions are soft and lightly coloured and the stuffing is bubbling.
Add more stock if they dry completely before the end of the cooking process.
Drizzle with a little olive oil and serve warm.