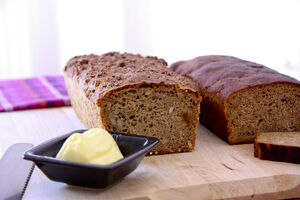 Prep Time: 2 hours, 20 minutes
Cook Time: 45 minutes
Yields: (4) 1 1/2 pound leaves
Description
[
]
I got this recipe from my neighbor when I told her I was thinking about growing fennel. She said, "oh, but fennel seeds are so much better." I'm not sure I agree, but I do love this bread. Hope you enjoy it as much as I do!
Ingredients
[
]
1 tablespoon anise seed
2 teaspoons fennel seed
1 medium potato, boiled
Water (about 1-1 1/2 cup)
1 cup dark molasses
2/3 cups brown sugar
2 tablespoons shortening
1 teaspoon salt
2 packages dry yeast
4 cups medium rye flour
6 to 8 cups white flour
Directions
[
]
1. Soak anise seed and fennel seed for 2 hours in a small amount of water.
2. Boil potato, strain, then mash. Save potato water and add enough water to make 4 cups liquid.
3. Combine all ingredients into a large bowl and knead. Allow dough to rise until it has doubled in bulk. You should have enough dough for 4 loaves.
4. Make 4 loaves. Allow the loaves to rise again until they have doubled in size. (Note: you can use pie pans to make round loaves). Bake at 350 degrees for 45 minutes.
5. Allow loaves to sit for 30 minutes before removing from pans or serving.