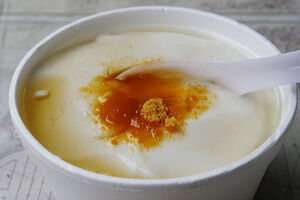 Prep Time: 5 minutes
Cook Time: 5 minutes
Yields: 8 servings
Description
Edit
Fluffy and sweet, this tofu pudding will captivate your taste buds better than any packaged pudding mix could ever do!
Ingredients
Edit
1 tablespoon lemon juice
(1) 12 ounce package extra firm tofu, drained and cubed
1/4 cup brown sugar
1/2 cup walnuts
1/4 cup pure maple syrup
Directions
Edit
1. Place tofu, brown sugar, walnuts, maple syrup, and lemon juice in a food processor. Process until smooth.
2. Cover and chill to thicken for pie filling, or serve immediately as pudding.