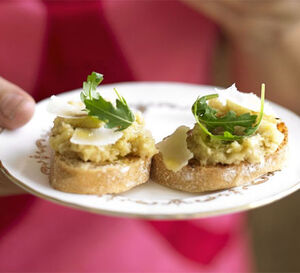 Note: Parmesan is never vegetarian, it always includes calf's rennet which is a meat product. If you're a strict vegetarian or if you're cooking for a strict vegetarian you need to substitute a different type of cheese of look for a different recipe. See Cheeses that aren't vegetarian for more.
Ingredients
[
]
1 cup arugula
Sliced baguette or ciabatta
4 parsnips
Salt and pepper
1/2 c. parmesan shavings
Olive oil or truffle oil

Optional: Poached Egg

Directions
[
]
Heat a griddle pan and toast the bread for about 2 mins on each side until golden and marked. Rub the cut side of the garlic clove over each piece.
Heat the butter in a large frying pan. Add the parsnips, season with sea salt and freshly ground black pepper, then cook over a medium heat, shaking regularly until golden and softened, about 20 mins. Add a splash of water if you need to. Remove from the heat and whizz to a purée in a food processor with both of the oils. Season to taste. Set aside at room temperature if serving on the day. Can be chilled up to 2 days ahead.
To serve, top the toasts with the truffled parsnip mix (it should be room temperature), scatter with rocket leaves and Parmesan shavings, then drizzle with a little more olive oil or truffle oil.
Make it lunch
Turn this starter into a light lunch by topping larger bruschetta with a soft poached egg. Truffle oil tip
Truffle oil doesn't keep its flavour forever, so use it up while it's good. Try adding a drop to creamy mashed potato. Prepare ahead
Prepare the parsnip purée ahead of time so that prep is kept to a minimum.
Per serving
[
]
112 kcalories, protein 3g, carbohydrate 9g, fat 8 g, saturated fat 3g, fibre 2g, sugar 2g, salt 0.28 g