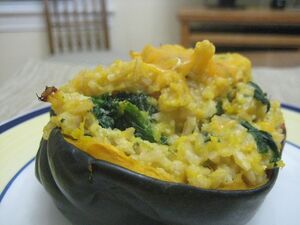 Prep Time: 10 minutes
Cook Time: 1 hour, 20 minutes
Yields: 6 servings
Description
[
]
Ingredients
[
]
6 buttercup squash
1/3 cup nonfat sour cream
1/2 teaspoon salt
1/4 teaspoon nutmeg
1/2 cup chopped pecans (optional)
6 tablespoons brown sugar or 6 tablespoons sugar, in the raw
Directions
[
]
1. Heat oven to 425°F.
2. Cut squash in half lengthwise, scoop out seeds and fibers and discard.
3. Place squash in an ungreased 13x9-inch baking dish.
4. Cover tightly with foil.
5. Bake for 30 to 40 minutes or until squash is tender.
6. Cool for 10-15 minutes.
7. Reduce oven temperature to 375°F.
8. Scoop out flesh of squash, leaving about 1/4 inch thick shell and set shells aside for now.
9. Place flesh of squash in a medium bowl.
10. Add sour cream, salt, nutmeg and nuts if using, mix until smooth.
11. Fill each shell with the squash mixture.
12. Sprinkle each with 1 tablespoon of brown sugar.
13. Place filled shells in baking dish.
14. Bake at 375°F for 15-20 minutes or until thoroughly heated.